San Francisco Bay Pollution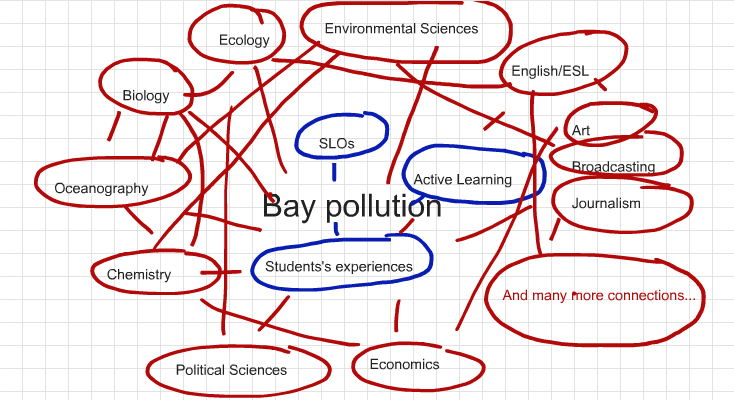 Pollution is a issue that does not start or stop at the boundary of the Bay. Pollution highlights our interconnectedness with the rest of the world. Consider, for example, worries that contaminated debris from the 2011 Japan tsunami washes up on West Coast shores. Consider also that a plastic bag floating in the Bay may eventually find its way to join one of the Great Garbage patches (Oceanography) and that whatever pollutant infiltrates the soil in San Francisco Bay's watershed has the potential to contaminate the Bay. In other words, pesticide runoff from a field in the Central Valley and oil from a leaking car in Auburn can end up in our Bay (Agroecology)!
But connections don't end there: Just take one of the pollutants of major concern for the Bay, mercury. Its presence in the Bay is intimately linked to the Gold Rush (History), to mercury mines in the South Bay (Environmental Sciences), to the mercury ores in the California Coast Range and movement of sediment (Geology), to human health and cell biology. Research about mercury reveals its bioaccumulation in the food web and threats to wildlife (Ecology), its impact on social justice issues, and reminds us of the Tragedy of the Commons (Political Sciences, Economics). And then, of course, let's not forget that, above all, mercury is a chemical!
We can link the exploration of pollution in the Bay to instructional SLOs, and apply active learning strategies appropriate to achieve course SLOs.
Agencies with lots of good information
California Critical Coastal Areas - Partnering to protect our coast from polluted runoff, information on runoff from individual Bay tributaries
The San Francisco Estuary Institute
conducts research and publishes information on
Pulse of the Estuary - yearly pollution reports, every year, besides updates on all aspects a very interesting emphasis on one pollutant. It is well worth looking at previous reports

2012: Flame Retardants (with separate insert on flame retardants)
Related: Chicago Tribune investigation and Time article based on research paper by Dr. Stapleton, Duke University

2011: Pollutant Effects on Aquatic Life

2010: Linking the Watershed and the Bay
2009: Bay sediments
2008: Mercury
2007: Monitoring and Managing Water Quality

Fact sheets, e.g., on Triclosan a common antibacterial agent in soaps
Contaminants in fish from the California coast
and runs many projects, amongst others the Contaminants Program, which coordinates research and provides access to a wealth of scientific studies on contaminants in the San Francisco Estuary
San Francisco Baykeeper
"Since 1989, Baykeeper has been the pollution watchdog for San Francisco Bay, using science and advocacy to strengthen clean water laws and hold polluters accountable", great newsfeed relating to the health of San Francisco Bay.
San Francisco Estuary Partnership
publishes Estuary News, a great newsletter with information about ongoing projects, many related to pollution (prevention) and also the yearly State of the Bay report. Under the link Challenges, you will find information on projects dealing with pollution prevention.
California Environmental Data Exchange Network
"The California Environmental Data Exchange Network (CEDEN)
is a central location to find and share information about California's water bodies, including streams, lakes, rivers, and the coastal ocean. Many groups in California monitor water quality, aquatic habitat, and wildlife health to ensure good stewardship of our ecological resources. CEDEN aggregates this data and makes it accessible to environmental managers and the public."
California Water Science Center
allows you to see real time stream flow conditions and water quality data.
Save the Bay
has information about trash, car pollutants, mercury, pharmaceuticals, and pet waste.
Miscellaneous resources