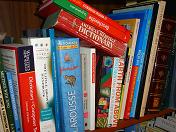 Textbook: Read, Write, Edit - Grammar for College Writers, Patricia Porter & Deborah vanDommelen. 2005.Boston: Houghton Mifflin Company
---
What is a "hybrid course"?
A hybrid course means that the class will be take place in two venues: online and offline. In other words, the class will meet online through computer-driven activities, as well as meet face-to-face in a traditional classroom. Our face-to-face meetings will take place in the classroom numbered HC 202.
What is this class about?
This class is a review and practice of advanced grammatical patterns in written academic English in the U.S. It is especially designed for the non-native speaker. At the end of the class, you should be able to recognize the range of sentence patterns (ie: simple to complex); recognize the parts of a complete sentence; produce correct grammatical sentences in oral as well as in written form; be able to self-edit your written work; and improve your ability to proofread your own as well as others' written text.
How do we accomplish these goals?
You are going to:
read and understand weekly lessons;
participate in weekly discussion forums;
complete weekly grammatical exercises in the form of quizzes;
submit short writing assignments from time to time;
participate in other activities as assigned; and
complete a mid-term and a final exam
Course Prerequisite:
This course requires that you are at the level of the equivalent of an ESL 160-level (or above) student at CCSF. Placement level is advanced.
Grading system:
This class is a Credit/No Credit class. This means that you would earn a Pass or No Pass rating in your official transcripts.
What you need to do to get a Pass rating:
You need to keep up with the weekly lessons and assignments. They are all dated. If you miss quizzes, assignments, or any other weekly activity, I am afraid there is no going back. Unless there are extenuating circumstances, no late work is accepted. Here's how your grades will be computed:
weekly quizzes & uploaded assignments = 25%
participation in class (forums, wikis, etc.)= 25%
error logs = 25%
mid term and final (each) = 25%
Important Information
The instructor has the right drop you at anytime for either of the following reasons: a) lack of participation; and b) improper and/or disruptive behavior.
Disabled Students:
If you have a disability, please alert the instructor on the first day of class so accommodations can be arranged.