Common Black-Hawk (Buteogallus anthracinus) 26 July 2003 at Gila, New Mexico; hand-held through binoculars. Photo © 2003 Joseph Morlan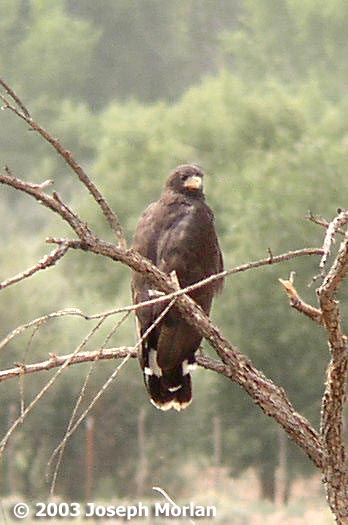 Robbie Fischer spotted this Common Black-Hawk from the car as we drove along the Gila River. We backed up to get a better view and I hand-held my Olympus D-550 against my B&L Elite 8x40 binoculars to get this shot before the bird flew off. I steadied the binoculars on top of the partly open car window for stabilization.

The bird is looking over its shoulder and showing the broad white band on the top of the tail. The tail is in molt, so the band and narrow white tail-tip seems displaced where new feathers have not completely grown in.

This uncommon species is very localized in the desert SouthWest where it requires riparian habitat with permanent water. This was my first sighting of this species in the United States, although I have seen it before in the tropics.

The image has been cropped, adjusted, and a branch removed in photoshop.
[
Home
]