Gray Catbird (Dumetella carolinensis), San Bruno Mountain, San Mateo Co., CA. © 22 June 2010 Joseph Morlan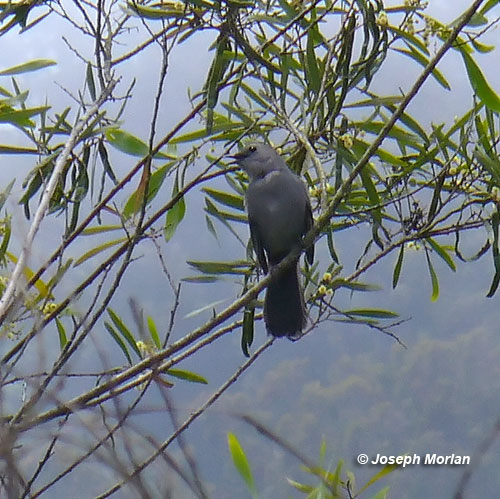 This is one of two singing male Gray Catbirds along the Old Guadalupe Trail on San Bruno Mountain. This species is a rare vagrant in California and I believe this is only the second time that more than one Gray Catbird has been seen at a single location in the State. Prior to this, two Gray Catbirds (both banded) were present 17-18 June 1996 at the Big Sur River Mouth, Monterey County. The California Bird Records Committee accepted 108 records of this species before Gray Catbird was removed from the CBRC review list in 1999.
Click here for excellent photo taken today by Calvin Lou.
These birds were first found by Herb Brandt on 20 June 2010. Today, voice recording of both birds were obtained by Robbie Fischer using an iPhone.
Click below for brief audio clips:
Photo taken with P&S Panasonic DMC-LZ5.
[
Back to Photo Gallery
] [
Home
]