Oriental Magpie-Robin (Copsychus saularis erimelas) - 7 January 2013 Mahachi Mangrove Forest Research Center, Samut Sakhon Province, Thailand Photo © 2013 Joseph Morlan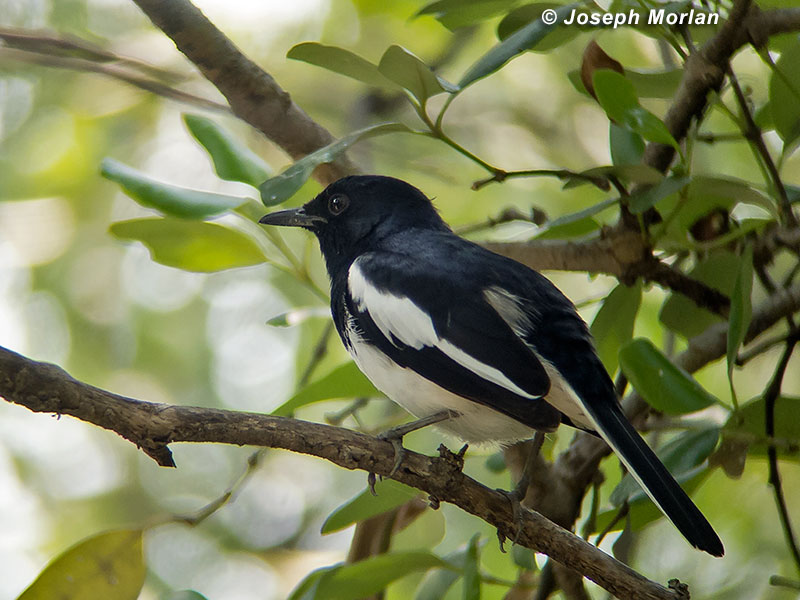 Currently these birds are included within the Muscacapidae (Old World Flycatchers), but some authors such as HBW still include them with the Turdidae (Thrushes). HBW further lumps this species with the Philippine Magpie-Robin (Copsychus mindanensis), but most recent authorities split them.

The number of recognized subspecies varies from 8 (HBW) to 16 (Clements). I prefer to follow Clements who considers this bird to be the race C. s. erimelas which ranges from NE India to Indochina. HBW considers this race to be synonym of the nominate race C. s. saularis. Both are characterized by a white belly and white in the tail, but erimelas reportedly has more black in the tail. This is a male. Females have the black replaced by gray.

Although quite common, this species has seriously declined in some areas apparently caused in part by excessive poaching. These are attractive birds and they sing beautifully which makes them targets for the pet bird trade. This photo shows hair-like filoplumes on the nape which can be found on most passerine birds when examined closely.

Digiscoped with Panasonic DMC-LX5 | Nikon FieldScope III | 30XWA |hand-held (no adapter).
[
Back to Photo Gallery
] [
Home
]