American Golden-Plover (Pluvialis dominica)
Guadalupe Wastewater Ponds, Santa Barbara County, California
2 October 2005
Joseph Morlan
---
Photos © 2 October 2005 by Joseph Morlan and Steve Sosensky. All rights reserved.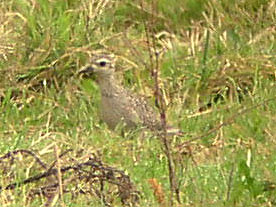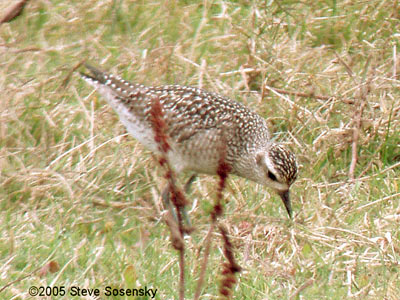 Today, on my way home from the WFO annual meeting in Santa Maria I decided to check the Guadalupe Wastewater ponds for various birds of interest. I met Bill Bouseman who pointed out the Ruff among the many Pectoral Sandpipers. Then I met Steve Howell who pointed out that an American Golden-Plover and a Pacific Golden-Plover were present in the distant tall grass. I attempted to photograph them through my scope, but the tall grass combined with the great distance made the results less than satisfying. Photos are left and below. Steve Sosensky was also present and got a much better photo (right).
Description

I did not take notes at the time, but concentrated on photography instead. Photos were digiscoped, hand-held, with an Olympus D-550z / Nikon FieldScope 3 / 30XWA.

However from memory and reference to photos I can say, that the two golden-plovers were decidedly smaller than the adjacent Black-bellied Plovers. Both were in juvenal plumage making a striking contrast. The Pacific Golden had a yellowish supercilium and more dainty proportions with a shorter primary projection, while the American Golden was shaped and had a plumage more reminiscent of a small Black-bellied Plover without any yellow in the supercilium or on the nape. The American Golden-Plover also had a darker more contrasting cap and a distinct dark spot on the rear of the auricular. Its underparts were darker and more uniform than the nearby Black-bellied Plovers. Some of these comparisons are visible on the photo below which shows all three species.
Discussion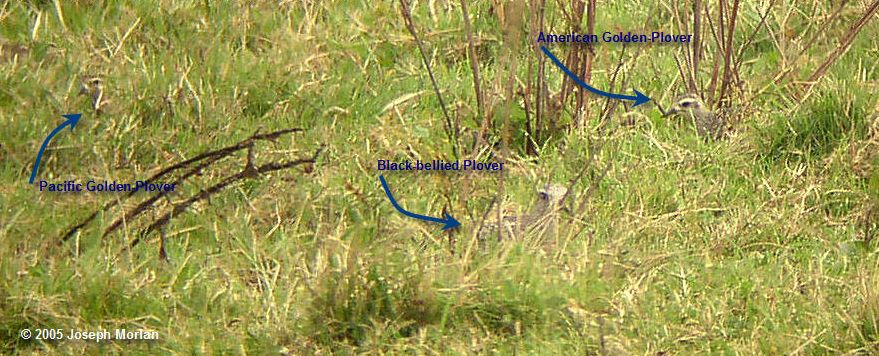 American Golden-Plovers are regular fall tranients in California, but the species was placed on the CBRC review list to better assess its status. It was felt that valid records of adults in autumn were over-reported and that many were based on mis-identified Pacific Golden-Plovers. It appears that all or nearly all American Golden-Plovers in autumn on the West Coast are of birds in juvenal plumage.