Bald Eagle (Haliaeetus leucocephalus) 18 June 2006 - Lundy Lake, Mono County, California. Photo © 2006 Joseph Morlan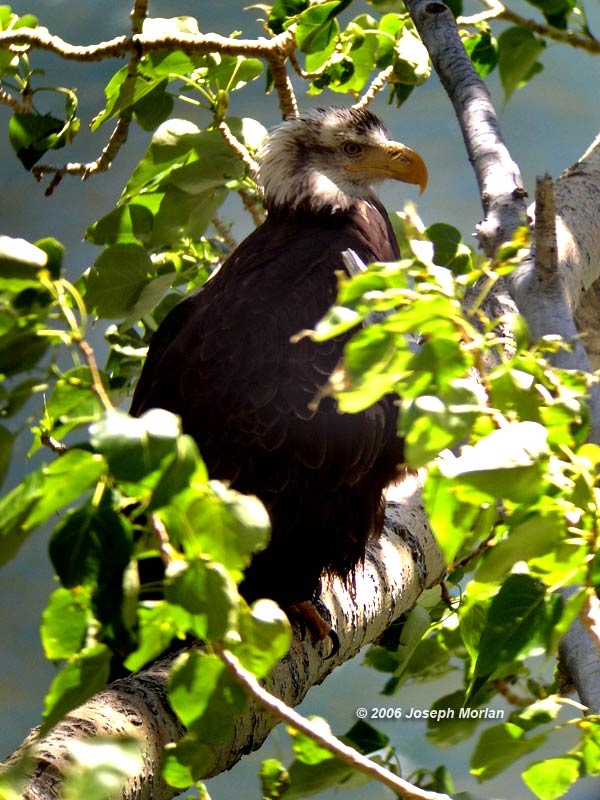 In the United States, this species was downgraded from Endangered to Threatened in 1995 and delisting was proposed in 1999. However, delisting was delayed although the goals of the recovery effort have been met.

Bald Eagles have increased as breeding birds in California. Last year the species nested successfully at June Lake. We were shown the nest, but no birds were in evidence this year.

At Lundy Lake, I was not expecting this species when I noticed a large lump, concealed in a tree near the road. I expected to see a large racoon or porcupine instead of this sub-adult Bald Eagle. Not wanting to scare it, I took this photo out the car window while Robbie Fischer held the scope steady.

It takes Bald Eagles several years to reach maturity. I believe this one is best classified as "Subadult IV." It is like an adult, but there are dark markings on the face and crown. However, the bill lacks the dark markings of Basic IV and the iris is pale yellow, so perhaps it should be called Basic IV (Advanced/Adult type). This terminology is from "Raptors of Western North America" by Brian Wheeler (2003).

There is no alternate plumage in this species, just a single protracted annual prebasic molt. Prebasic IV molt begins in the spring of the fifth calendar year and continues in summer and fall. Thus this bird was probably hatched in 2002.

The photo is uncropped.

Olympus D-550z / Nikon FieldScope 3 / 30XWA (hand-held - no adapter).
[
Back to Photo Gallery
] [
Home
]