Eyebrowed Thrush Turdus obscurus
Silver Saddle Resort, Galileo Hills, Kern County, California, 28 May 2001
Photo and video © 2001 by Linda Terrill. Digitized by Leslie Lieurance. All rights reserved.

---
Text by Scott Terrill.
To view the video, click here. Additional photos by Bob Steele below.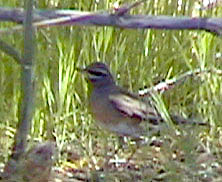 I spotted this bird in deep cover and shade about 1430 on Monday, May 28 2001. Linda and Ryan Terrill, Jeff Seay and Corinne Pointet were nearby, so I called them over to take a look. At first, given our initially very poor and brief looks, I was shocked by what we had seen and convinced that the bird could not have actually been an Eyebrowed Thrush, even though I was relatively sure that's what it was. The bird disappeared for twenty minutes until I relocated it again briefly, but this time in the open. The identification was immediately clinched and I made the calls I could. Galileo is a private resort that graciously allows birders to check the park. However, the owners have asked that specific guidelines of communication be followed in the event that a rare bird, especially one that might attract a large number of birders, is found on the property. These guidelines were followed. After much looking, punctuated by brief views over the next few hours, we pinpointed the bird's location in deep shade in a stand of bamboo and willows and we quietly waited for the bird to start foraging. The thrush finally starting foraging a bit in the open (but still in shade) and Linda was able to videotape it, while several of us took photos. The still posted here has been lifted from Linda's video and a portion of her video clip is provided. Both were formatted and kindly provided by Les and Cindy Lieurance.

Obviously, this was a remarkable vagrant that had been somewhat expected in California, but not in spring and not in the desert. I think most of us predicted that it would show up in late fall on the coast, e.g., se. Farallon or Point Reyes. We would have been thrilled to have as many observers as possible see this bird, and we had really hoped the bird would stick around and arrangements could be made for access, by what could have been a very large number of birders. Unfortunately, the bird apparently left that night. Hopefully, the next one will stick around for a bit.
---
Photos © 28 May 2001 by Bob Steele. All rights reserved.