Gray Flycatcher (Empidonax wrightii), Navy Beach, Mono Lake, Mono Co., CA © 17 June 2006 Joseph Morlan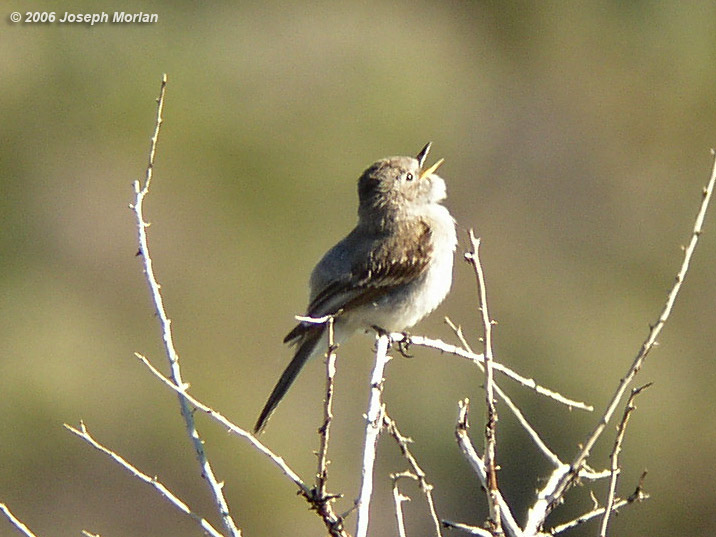 This weekend, we attended the Mono Basin Bird Chautauqua:

http://www.birdchautauqua.org/

On Saturday, we participated in a field trip led by David Wimpfheimer and Susan Colletta where I took the opportunity to photograph this Gray Flycatcher.

This is a member of the cryptic Empidonax genus of American flycatchers which closely resemble each other. They are best distinguished by their vocalizations. Here, this individual is singing it's distinctive two-parted "chullup - heep" song.

This species is almost identical to the Dusky Flycatcher (Empidonax oberholseri) which breeds nearby, but in different habitat. Originally the two were thought to be the same species, but the confusion between them was so profound that, long after the two were split, the type specimen of the Dusky Flycatcher was eventually shown to actually be a Gray Flycatcher.

The Dusky Flycatcher was formerly called Empidonax wrightii, the "Wright's Flycatcher" and the Gray Flycatcher was Empidonax griseus. When ornithologists finally realized that E. wrightii had been used for the wrong species, E. wrightii had to be applied to the Gray Flycatcher because that name had been used first (law of priority). That meant new names were needed for the Wright's Flycatcher which got both a new English name and a new scientific name.

So if you find these birds confusing, don't feel bad. The scientists who first described them were even more confused. Legend has it that Theodore Roosevelt's first conversation with John Muir was "How do you tell a Wright's Flycatcher from a Hammond's Flycatcher." However, posterity does not record Muir's answer.

Olympus D-550z / Nikon FieldScope 3 / 30XWA (hand-held - no adapter).
[
Back to Photo Gallery
] [
Home
]