MIDWEST MIGRATION
MAY 10 - 18, 2003
By Robbie Fischer
Photos by Robbie Fischer and Joe Morlan
Joe Morlan and I left San Francisco airport for Detroit, Michigan the morning of May 10th. We picked up a car and drove to Leamington, Ontario that evening. We stayed at Rymal's Motel, although we recommend making reservations early enough to book one of the major chains such as the Comfort Inn. Rymal's is old and all rooms smell like smoke, not the kind of place you'd want to hang out on a rainy day. Fortunately for us, we didn't spend much time there.
The morning of the 11th brought heavy thunderstorms so we ate breakfast at Burger King and were on our way to Point Pelee about 9 AM. The rain was light and intermittent by then. We were barely a quarter mile inside the park when Joe pulled over, intrigued and enchanted by the myriad bird songs filling the woods along Sanctuary Pond. Most of the warblers were Yellow-rumped but we weren't disappointed. It's always a pleasure to see and hear your common winter birds all decked out in spring finery and singing away. Tree, Northern Rough-winged, Cliff, Bank and Barn swallows patrolled the marsh but, luckily for us, the mosquitoes had not hatched yet.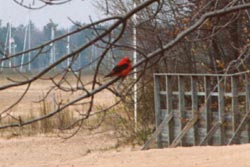 The rain picked up and we drove to a parking area along the west side of the road and birded from a picnic shelter, seeing our first male Scarlet Tanagers, brilliant bits of red and black on a gloomy day. Yellow Warblers provided additional bright spots of color. Joe remarked on the difference in song in the eastern versus western Warbling Vireos and we both were frustrated by so many other songs we couldn't identify without seeing the birds. Living in California, most of our eastern vagrants are found in fall and are not singing. Although both Joe and I come from the east coast, I was never a birder while I lived there and Joe has been in California for about 30 years. It's humbling to realize all you don't know.
Next we drove to the Visitor's Center and learned that a Yellow-bellied Flycatcher had been seen earlier in Tilden's Wood. This was one of the few birds Joe had never seen (nor had I) so we walked the trail and had great looks at the bird in short order. I was elated, our first target was cooperative, now we could just enjoy whatever came our way.
The early morning storms were fortuitous. The wind kept the birds close to the ground and soon we were enjoying Black-throated Blue, Chestnut-sided, Nashville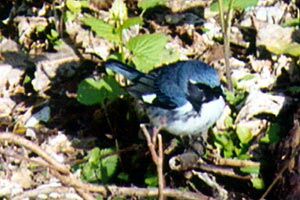 and Magnolia warblers practically underfoot. Baltimore Orioles and Least Flycatchers were abundant, as were Black-and-White Warblers and American Redstarts. Regulars at Point Pelee were calling this a "fallout". We spent a couple of hours in Tilden's Wood and then decided to take the tram to the point.
The sun came out and the east side of the point was well covered by many observers. Photographers had their vantage points staked out, hoping for frame filling shots. We'd never seen so many huge lenses all trained on openings in the trees where the beach met the forest edge. A male Blackburian Warbler below eye level was a highlight. Later in the day we returned to Tilden's Wood and I saw a Sandhill Crane flying over the marshy area on the way to the beach. Joe told me some folks had just seen a Veery in the woods near the beach so I patiently waited for it to reappear. A brief glimpse was all I managed so my life list now included the Veery with the dreaded BVD notation (Better View Desired).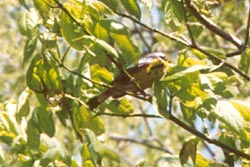 With so many birders, information on special species was passed easily by word of mouth. We heard that American Woodcocks could be seen performing their courtship display at the DeLaurier Parking Area at dusk. At Point Pelee in mid-May, dusk comes about 9 PM. We decided to eat dinner at the Fish Place not far outside the park and return later in the evening. We arrived expecting to see other cars parked in anticipation. As the darkness descended, our hopes waned as we waited alone. Finally, Joe heard a woodcock and we got out to see if he could locate it. Immediately, we saw one in display flight directly over the car and it landed in the adjacent field. It was almost too dark for binoculars but our vigil hadn't been in vain.
The next morning at Point Pelee was sunny, cold and windy. We began the day at Tilden's Wood, on the east side of the peninsula and somewhat sheltered from the wind. We met a group of birders from Toronto, led by Glen Cody. They were enjoying great looks at a Kentucky Warbler. A few minutes later, Glen got his scope on a Blue-winged Warbler, always a treat. Both birds are noteworthy species in the park. We walked one of the side trails and were happy to see a Solitary Sandpiper in a small wet area. Many of the same warblers from the previous day were still around. They were joined by a few Northern Waterthrushes, the first we'd seen.
At the point, there were amazing numbers of swallows all huddled together on the beach. The rangers had roped off areas so the Barn, Cliff, Bank and other swallows would be undisturbed. We speculated that they were exhausted and cold after crossing the lake from Ohio in the fierce wind. It is difficult to forget how life threatening migration can be after seeing those thousands of swallows trying to keep warm and recover. Once again, the wind kept the birds low and we had excellent views of Hooded and Black-throated Green Warblers, Orchard and Baltimore Orioles and male and female Scarlet Tanagers.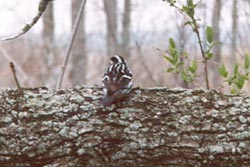 In the afternoon, Joe and I explored the Woodland Nature Trail. One of the highlights for me was the sight of two male Rose-breasted Grosbeaks resting in a bush a couple feet off the trail and only three feet off the ground. A group of birders was looking at a purported Canada Warbler but when Joe got a good look, he realized it was a female Magnolia. Later we did see a Canada along with two separate Eastern Screech-Owls roosting near the trail. The birders' grapevine is a wondrous communication tool in a heavily birded spot like Point Pelee. It has its drawbacks though. You can spend so much time chasing "good" birds that you miss the joy of just ambling. Joe and I use radios to stay in touch and many a mile has been walked to try to see a bird that's gone before I get there, or vice versa. That evening we went into Leamington and ate dinner at a wonderful trattoria called Spago. It was a great ending to a special day.

Our last day at Point Pelee was sunny and windy again. We headed out to the point early and saw our first Yellow-billed Cuckoo of the trip. There was a Yellow-bellied Flycatcher at the edge of the woods near the beach. On my way to the tram, a couple people mentioned there was a Little Blue Heron in a maple nearby so I joined the search and was lucky to see this rarity perched about 20 feet above the ground. Click here to see a good photo of this bird by Jean Iron. It was also the first day we encountered migrating raptors, with Sharp-shinned, Red-tailed and Broad-winged Hawks all making an appearance along with a Northern Harrier. I talked with Jon Dunn near the Visitor's Center and learned he had just missed a Mississippi Kite which had been seen over the parking lot. Joe and I reluctantly left in the early afternoon for the drive to Crane Creek, in Ohio, having seen about 100 species in Ontario.
We stayed in a Comfort Inn east of Toledo and ate dinner at the nearby Big Boy, a Midwestern standard. This was quite a step up from our accommodations in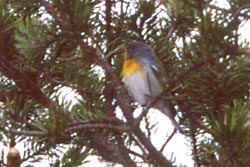 Leamington. There was a substantial continental breakfast in the morning and Joe conferred with Jon Dunn, who was leading a Wings tour, on their plans for the day. Neither Joe nor I had ever birded these migrant traps on Lake Erie but Crane Creek was fast becoming a rival to Point Pelee in birding destinations. We got an early start and were greeted at the boardwalk by that baffling array of bird songs. Our experience the prior three days was helpful in separating out the more distinctive of the warblers songs. We were humbled once again as, what at first seemed to be a singing Northern Parula, when seen turned into a Black-throated Blue Warbler.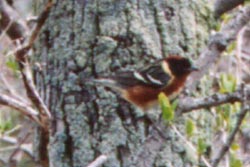 Crane Creek has a convenient, lengthy boardwalk that wanders through a riparian area a few hundred yards from Lake Erie. The trees here are the last stopping point for birds before making the long journey over water to their breeding grounds in the north. Thus many species are seen in high concentrations, often at eye level. We saw our first Bay-breasted Warblers, Ovenbirds and White-eyed Vireos. There were herons and a few ducks feeding in the impoundments and a very cooperative Sora sauntered in the open close to the boardwalk. There was a roosting Eastern Screech-Owl staked out and we had great looks at Veery and Wood Thrush.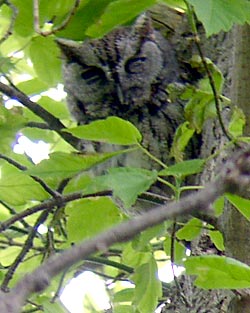 White-throated Sparrows of both white and tans phases were abundant, as were Northern Waterthrushes. The habitat was terrific for birders as neither the trees nor the undergrowth were dense and the leaves were still small this early in the season. Probably our best bird was an American Woodcock only a few feet from the boardwalk, resting below eye level.
The next morning brought rain so Joe and I drove around Maumee Bay State Park until it began to clear. The storm was well-timed, keeping the prior day's species at Crane Creek but also bringing some new ones. Many of us spent a good deal of time chasing around a male Mourning Warbler, trying to get a good look. Luckily the Cape May, Canada and Blackpoll warblers were very easy to find. We added Gray-cheeked Thrush, Philadelphia and Blue-headed vireos and Ruby-throated Hu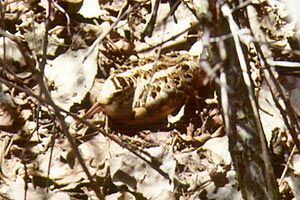 mmingbird to our Ohio list. In the afternoon, we drove around the agricultural fields nearby, finding singing Bobolinks that had been reported by others. That area had Eastern Kingbirds, a Field Sparrow and Savannah Sparrows plus Horned Larks but we never found the expected Grasshopper Sparrows. We decided to treat ourselves to a good dinner at Cousino's and we were not disappointed.
The morning of the 16th was foggy, a good condition for migrants. On the entrance road to Crane Creek, Joe heard and we subsequently found our first singing Willow Flycatchers. Jon and his Wings tour pulled up next to us and we all were able to see the birds well. One of the participants confided that the Willow Flycatche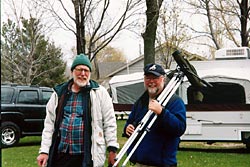 r was her 500th ABA area species. The boardwalk at Crane Creek was popular this day. There were family groups of Amish folks, with even the children carrying binoculars. Jon indicated that many of the Amish men were great birders. The Almdales from Southern California radioed that they were seeing the male Mourning Warbler and this time the bird was very cooperative.One of the frequent ID discussions taking place amongst birders of varying skills was the tendency to insist they were seeing Canada Warblers when in fact the birds were female-type Magnolias. It became apparent that they were concentrating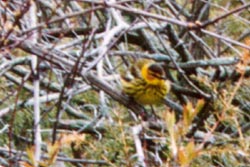 only on breast pattern and ignoring the presence or absence of wing bars and tail spots. As we were trying to tear ourselves away for the trip north to Saginaw Bay, a beautiful male Cerulean Warbler was found feeding at eye level near the entrance. It sang softly occasionally, to our delight. Word spread rapidly and this sought after species was well seen at close range by most everyone.
With another hundred plus species around Crane Creek, Friday afternoon we drove north a few hundred miles to East Tawas, Michigan and checked in at the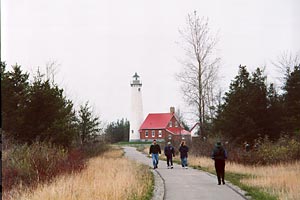 Holiday Inn on the shores of Saginaw Bay. Spring had barely begun in this area where the leaves on the trees were minuscule compared to what they were in Ohio. The next morning we were up at dawn heading for one of Michigan's best migration spots, Tawas Point. We encountered what the locals were calling a "fallout". We pulled over along the entrance road and heard and saw 8 to 10 species of warblers in the tops of the large trees, including Bay-breasted, Magnolia, Pine, Black-and White and the Myrtle form of Yellow-rumped. Once we got into the park it was hard to know where to look. Vireos included Blue-headed, Warbling, Philadelphia and Red-eyed, all singing. We saw Swainson's and Gray-cheeked Thrushes as well as a Veery. A late Yellow-bellied Sapsucker was a surprise and we were happy to see 10 sp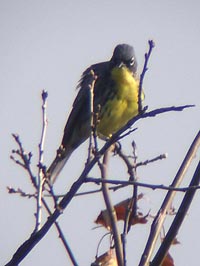 ecies of sparrows including Vesper and Clay-colored. Of the 18 species of warblers we saw that day, the highlight was a singing male Golden-winged. Rose-breasted Grosbeaks and Baltimore Orioles were abundant around the feeders in the campground.
In the afternoon we drove to Tuttle Marsh and Joe found a female Golden-winged Warbler as well a singing Alder Flycatcher. At least four Osprey circled the marsh that also contained Blue-winged Teal, American Bittern, Sora and Virginia Rails. Later we drove two hours to Mio and stayed at the Au Sable Valley Inn to be on hand for our Kirtland's Warbler tour on Sunday.
It was clear and chilly Sunday morning as we arrived at the Ranger Station in Mio. After a videotape explaining the habitat and conservation efforts for the Kirtland's Warbler, we caravanned to a Jack Pine forest area about 10 miles west of Mio. Within a few minutes we heard a singing male in the distance. As the group of 8-10 people waited patiently, another male began his distinctive song. Before 9 AM, we had seen three males in the vicinity, one or two of them perching and preening for full scope views. We also heard Upland Sandpipers in the distance and had good looks at a singing Lincoln's Sparrow.
Since it was still early, Joe and I decided to go back to Tawas Point for a few hours before returning to Detroit to catch our early morning flight home. There were fewer migrants than the day before but I managed to add a male Canada Warbler to my Michigan list. All told we identified 105 species in our two days in Michigan and about 150 for the eight day trip. What was most impressive was not the number of species but the wonder of hearing and seeing so many individuals in their striking alternate plumage. It was unforgettable.