Philadelphia Vireo
Galileo Hill, Silver Saddle Resort
Kern County, California
25 September 1999
Joseph Morlan
---
Photos © 1999 John Wilson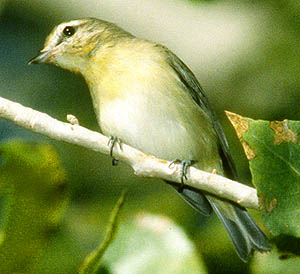 I spent quite a bit of time this morning looking in the hillside of flowering rosemary near the pavilion hoping to get a chance to study the female Calliope Hummingbird which had been reported. After about an hour I only saw one Rufous Hummingbird and was starting to head back to the main parking area when Robbie Fischer came to tell me that Karen Gilbert had found a Philadelphia Vireo. I got a lift back to the spot where a large crowd had assembled. Most were staring intently with binoculars into some cottonwoods.

Some kind individual pointed the Philadelphia Vireo out to me and I had a chance to study this bird for a prolonged period of time while others attempted photography. Later that day, I was able to view the video of the bird taken by Gary Rosenberg.

The following description is based on notes taken while watching the bird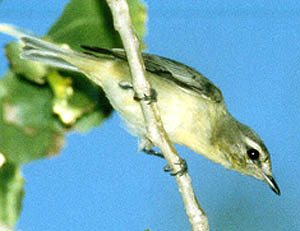 :
Smallish vireo about the same size and shape as Warbling Vireo. The gray crown contrasted somewhat with the olive-green upperparts and wings. A dark square patch formed by the primary coverts contrasted with the rest of the wings and a pale tinge was visible on the tips of the greater wing coverts, forming a faint olive wing-bar.

The underparts were pale washed throughout with yellow, most prominently on the throat, mid-breast and undertail coverts. The bird was palest on the belly in the area between the legs. The tail was squared at the tip and gray below. The bill and legs were thick and gray in color. A faint area of pink was visible from below in the vicinity of the lower mandibular rami.

The bird showed a pale supercilium which was not strongly contrasting with the rest of the face. A dark gray eyeline extended forward and backward from the eye. The line in front of the eye was somewhat more diffused than what I normally see on this species. Nevertheless, I felt the face pattern was more like Philadelphia than Warbling.
This appears to have been an outstanding weekend for Philadelphia Vireo in California, with two in the San Francisco Bay area and one reported from San Diego. Another was seen earlier in the season at Point Reyes.
Note: This species is no longer a California Bird Records Committee review species. These details are posted here for general interest.