Pyrrhuloxia
Costa Mesa, Orange County, CA
13 March 1999
Joseph Morlan
---
Photos copyright © 1999 by Joel Weintraub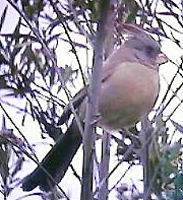 Today, Robbie Fischer and I decided to take advantage of permission from the property owners to view the Pyrrhuloxia which has been present on private property in Costa Mesa for nearly a month. We arrived about 8:30am to find someone already watching the bird. I got my KOWA TSN4 on the bird in good sunlight. Eventually the Pyrrhuloxia disappeared behind the fence, but reappeared when Michael San Miguel Jr. found it on a dirt pile to the north. More people arrived including Mike Feigner and all got excellent views of this interesting bird.
The following is based on notes taken while watching the birds:
The bird seemed slightly smaller than adjacent California Towhees but decidedly larger than adjacent White-crowned Sparrows. It was gray-brown above, grayer on the head and face, and dull yellow-brown below. Its yellowish bill was very thick and the culmen was strongly arched meeting the forehead at a flat angle. The cutting edge of the maxilla was strongly angled giving the bill a somewhat parrot-like appearance. The rose-pink crest was long and thin The dark eyes showed a a red eye-ring, lores, and there was a small red patch on the chin and a red patch on the base of the primaries as well.

The tail was quite long and rounded at the tip. The upperside of the tail was brown but the underside was strongly suffused with rose-pink which showed along the outer edge of the tail from above. All the rectrices were moderately worn and abraded, but the outermost rectrix on the bird's right side was broken at the tip and decidedly shorter than the outermost rectrix on the left side. Michael San Miguel Jr. commented that the broken feather was visible from above on at least one occasion. (The photo by Joel Weintraub on the right does not show the broken tip; the photo was taken 6 March 1999, a week earlier than our sighting).

The legs and feet were gray, but in bright sunlight, they appeared pink. There were no bands on the legs, nor were there any unusual growths or deformities on the feet that would suggest captive origin.

It called a few times, giving a dull "pink," not as sharp as the similar call of Northern Cardinal.
Discussion
I think the identification is well established. However I think there is a question of whether the bird was wild or an escaped cage-bird. The California Bird Records Committee has reached the following decisions in the past:
Accepted

1. 24 Feb-8 Mar 1971            Heise Springs 	IMP		1971-002	1
returning 31 Dec 1971-27 Mar 1972				1972-002	1
and 22 Jan-23 Mar 1973						1984-079	10
2. 17 Dec 1972-19 Feb 1973	Calipatria IMP			1985-143	10	ph.
3. 23 May 1974			Brock Research Center IMP	1974-064	3
4. 14 Jul 1974			Palo Verde IMP			1974-072	3
Luther et al. (1979) mistakenly list the county as Riverside.
5. 18 Jul 1974			Westmorland IMP			1974-070	3
6-7. 6 Jun-1 Jul 1977 (2)	Chemehuevi Wash SBE		1977-067	4	ph.
This record involved a nesting pair.  A photograph was published by 
Roberson (1980:427), with an incorrect date.
8-9. 23 Jul 1982 (2)		Corona RIV			1983-013	10
10. 7-10 May 1983		vic. Lancaster LA		1983-117	11
11. 14 May 1983			Chemehuevi Wash SBE		1987-313	14
12. 26-27 May 1983		Encinitas SD			1986-089	11
13. 1 Jun 1986			Cottonwood Springs RIV		1986-372	11
14. 19-23 Jul 1990		San Miquel I. SBA		1990-140	16	ph.
15-18. 28 May-8 Jul 1995 (4)	Chemehuevi Wash SBE		1995-056	21	ph.
This record included the second known nesting effort in California,
the first also being at this location in 1977.  A photograph was published
by Garrett and Singer (1998).
19. 3-5 Jun 1996		Seeley IMP			1996-122	xx	ph.

Not accepted, identification not established

31 Mar-2 Apr 1988		Escondido SD			1988-117	14

Unsubmitted

10 Feb-29 Mar 1953		Mecca RIV			Audubon Field Notes 7:236
6-7 May 1961			Cottonwood Springs RIV		Audubon Field Notes 14:440
28 Apr 1974			s. end Salton Sea IMP
23 Dec 1977			Brock Research Center IMP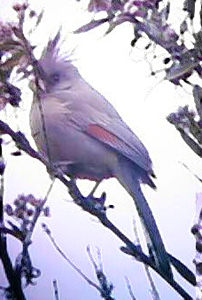 This species is kept in captivity in Mexico. Robb Hamilton and Karen Gilbert found five individuals in the bird markets in Ensenada. Given the wear on the tail, I tend to believe that the Orange County record, in a residential area on the coastal lowlands near a large Hispanic community is more likely to have been an escaped cage-bird than a genuinely wild stray. As with all such cases, we will never know for sure.