Sprague's Pipit (Anthus spragueii)
Calipatria, Imperial County, California
27 January 2007
Joseph Morlan
---
Photo © 27 January 2007 by Joseph Morlan. All rights reserved.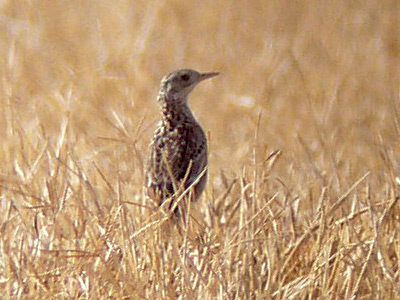 This morning Dan Singer and I decided to try for the Sprague's Pipit which had been reported at the intersection of Hwy. 111 and Sinclaire near Calipatria. We arrived mid-morning under clear skies and no wind. At first we looked in a field in at the northeast corner of the intersection, but a phone call to Guy McCaskie soon put us at the northwest corner of the southwest field. We walked diagonally out into the short dry grass when Dan Singer located a Sprague's Pipit hunkered down in the grass about 30 feet away. When I joined him, the bird flew south. We were able to relocate it and I got it in a Nikon Fieldscope. I put my Olympus D-550 digital camera up to the scope and took the photo to the left. The bird quickly flew again and was joined by a second Sprague's Pipit. They both flushed as we approached, giving a distinctive "qweek qweek" call as they flew. We approached again but they gave us the slip and we did not relocate them.

Description
In the harsh light, these birds looked grayish buff as they walked on the ground usually buried in the stubble. Their bills were thin and pointed with a pale mandible and dark tip. The faces appeared rather plain with their large dark eyes surrounded by a broad grayish-buff eyering. A faint mustachial stripe was evident above the malar on the one bird I photographed. Their crowns were streaked with dark brown. Their napes and backs were heavily mottled with dark brown. Their breasts had faint buffy streaks. The outer tail feathers showed extensive white when the birds flew. Their belly and legs were not seen.

The birds walked deliberately in the grass. They bobbed their heads, but did not pump their tails. They did not venture into the open at all. We saw and heard numerous American Pipits close to the road. They sounded very different and pumped their long tails as they walked in the open. The Sprague's Pipits did not associate with other birds, mostly keeping to themselves.
These are my fourth Sprague's Pipits in California. My first was in October 1975 in the Tijuana River valley. I also saw five birds which wintered near Lancaster, Los Angeles County in January 1982. On 27 December 2002 I saw and photographed 3 Sprague's Pipits in a field just east of Calipatria. My account and photos of those birds are here.