Tricolored Heron
Bolsa Chica Ecological Reserve
Orange County, California
26 November 1998
---
All photos copyright © 1998 by Peter Knapp
Robbie Fischer and I decided to look for the adult Tricolored Heron which has returned to winter at Bolsa Chica. Upon arrival a large group of photographers were all pointing large lenses in the same direction, but it turned out they were all aimed at the same Common Yellowthroat. Peter Knapp advised us that the Tricolored Heron had been on the boardwalk earlier but had moved to the section just south of the parking lot. A search there produced a flock of five male Blue-winged Teal, but no Tricolored Heron.
We then checked the boardwalk and found the heron sitting on top of a pole very close. I got the bird in the scope and started taking a few notes. Then the bird flew a short distance to the south and started to preen.
The following is based on notes taken while watching the bird:
A small heron, about the size of adjacent Snowy Egret. The upperparts were dark blue-purple and the contrasted with the snowy white belly and in flight, white wing linings were evident.

The bare skin around the eye was yellow. The iris was yellow with a large black pupil. The bill was very long, stiletto shaped with the base of the lower mandible an orange-yellow color. The upper mandible was dull gray.

The chin was white, becoming orange on the throat. A few gray-white feathers were visible on the foreneck. Shaggy purple-red neck feathers were evident. The back was slate-blue with long wine-purple colored lanceolate plumes. The head was small, the neck very long and thin.

When a Peregrine Falcon flew over, the bird became alert, raising its spiky crown feathers which showed a decidedly copper color.

The legs were dull yellow at the base fading to dingy gray green feet. The back of the legs were more yellowish than the front.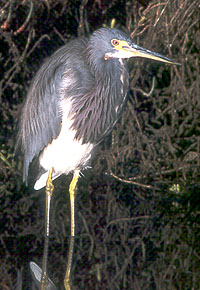 --
Joseph Morlan
380 Talbot Avenue #206
Pacifica, CA 94044