Yellow-green Vireo (Vireo flavoviridis)
Road Forks Pool, Point Reyes, Marin County, California
2 October 2006
Joseph Morlan
---
Photos © 2 October 2006 by David Hamilton. All rights reserved.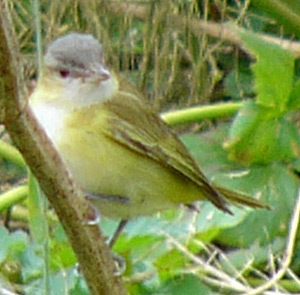 Today, Robbie Fischer and I decided to head to Point Reyes to look for various rarities reported over the weekend. We noticed several birders at the Road Forks Pool just beyond the Historic "A" Ranch (Nunes Ranch) and learned from David and Denise Hamilton that the Yellow-green Vireo found Saturday, September 30 was still present. We headed up to where Jim White and Ed Greaves had last seen the bird. Soon the vireo popped up under some Coast Bush Lupine and eventually we got excellent views in good morning light.
Description

It was a large vireo, similar in many respects to Red-eyed Vireo (Vireo olivaceus) but with several noticeable differences. The underparts were boldly marked with a greenish-yellow wash on the sides, flanks and undertail coverts. This color was brightest on the undertail coverts. It extended up the side of the neck onto the face, almost reaching the eye. This feature is diagnostic. Some bright immature Red-eyed Vireos have a yellowish wash on the sides, flanks and undertail coverts, but it never extends up to the side of the face as in Yellow-green Vireo. The back and wings were a uniform yellow-green color similar in hue, but darker than the color on the sides and flanks. The crown was dark slate-gray, showing a slight bluish cast. The eye appeared dark from the distance I was viewing, and had a dark gray transocular line. The whitish supercilium seemed narrower than on most Red-eyed Vireos and was indistinctly bordered above by dark charcoal-gray. This pattern was more blended than on Red-eyed Vireo, and also more blended than on most Yellow-green Vireos I have seen in the past. The tail was rather short, and it frequently cocked its tail, a behavior not usually seen on Red-eyed Vireo. The substantial, thick blunt bill was rather silvery in color and appeared paler than on most Red-eyed Vireos, but it did not appear noticeably stouter or longer than the bill of Red-eyed. The rest of the underparts were clean white, including the throat and the center of the breast. The legs appeared grayish.
Discussion
After viewing the bird, I spoke to David Hamilton who showed me some digital photos he had taken. He said he would send me copies and they are included here by permission. Later I also viewed digital photos taken on Saturday by Todd Easterla.
California has over 75 records of this species, all in September or October. Northern California has fewer records than Southern California. I found the first Marin County record of this species at Stinson Beach, 27 October 1985. Since then there have been at least five additional records in the county.
This species has sometimes been regarded as a subspecies of the Red-eyed Vireo.
---
Additional photos © 30 September 2006 by Todd Easterla. All rights reserved.