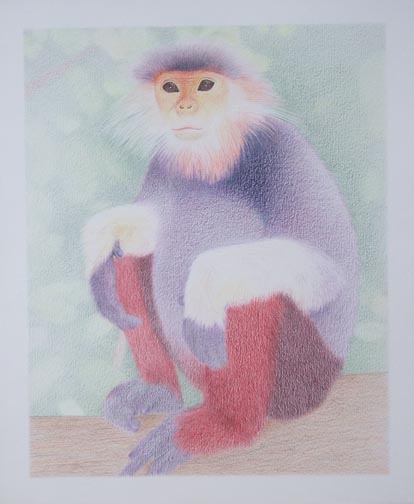 Illustration of a Chimpanzee
by: May Gee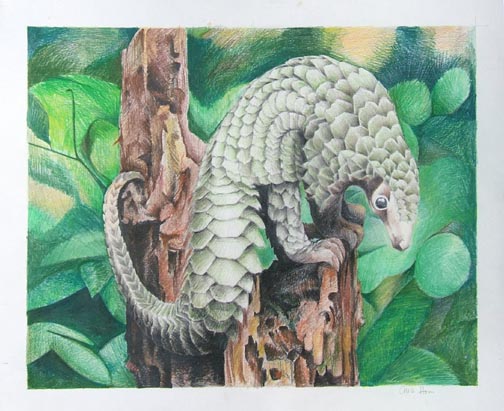 Zoology Illustration: Illustration of an Armadillo
by: Chris Homr
Anatomy: Tree Frog

by: Jennifer Low

Zoology Illustration: Illustration of an owl

by: Unavailable

Zoology Illustration: Illustration of two animals

by: Rermrat Sawasdikul

Zoology: Illustration of a Toucan

by: Monika Elbaz
ILLUSTRATION CLASS PLAN
Beginning Exercises 136A
Intermediate Exercises136A and 136B
Advanced Exercises 136B
ORIENTATION
There is a need to become familiar with the practice of the sketchbook for concepts and developing the processes.
The need to become familiar with the computer as an alternate source of illustration.
To examine and consider the graphic design side of illustration.
To continue to develop the tactile "hands on" process of illustration.
To become or remain savvy of photographic processes.
To realize the need for research and problem solving for the illustrator.
To understand the need to be versatile to some extent and to realize the practice of specialization within several choices.
CATEGORIES: THREE MAJOR AREAS OF ILLUSTRATION

A. Editorial:
1. Book and brochure illustration.
2. Book covers (varied subjects).
3. Spot illustrations to accompany articles.
4. Childrenıs books.
5. Magazine and newspaper illustration.
6. Magazine covers.
7. Spot drawings.
8. Sports illustration.
9. Editorial cartoons and caricature (character development).
10. Humorous illustration.
11. Political cartoons.
12. Posters.
13. Specialization within this and other categories.
B. Advertising Illustration:
1. Fashion illustration (reporting and advertising).
2. Product Illustration (durable and non-durable goods).
3. Travel illustration.
4. Health and medicine, law and political services.
5. Cards and correspondence.
6. Specialization within this and other categories.
7. Logo design and corporate identity/business and industry.
8. Package design and iconography.
9. Website design and graphics
C. Medical Technology and Scientific Illustration:
1. Medical Illustration: (anatomy and biological science and chemistry).
2. Scientific Illustration: (botany, ornithology, entomology, and ichthyology).
3. Biology: Microbiology.
4. Physical sciences: (geology, geography, Astronomy).
5. Mechanical Sciences: (design, maps, charts).
6. Zoological sciences.
7. Specialization within this and other categories.
SPECIALIZATION: Some of the more popular areas of specialization include:
Law and politics, Logo design and corporate identity, Business and industry, health and medicine, package design and icon graphics, website design and graphics, science and technology, natural science, veterinary science, transportation, drugs and alcohol, environmental, holidays, arts, religion, sports, family images, rural and urban, education, crime, money, energy, transportation.

HISTORY OF ILLUSTRATION: PURPOSE AND FUNCTION
Historical, Biblical, Exploration, Visual Reporting, Teaching, Instructional, Maps, Propaganda.

PROCESSES:


1. Accuracy and fine detailing.
2. Expression and action.
3. Imagination and concepts.
4. Interpretation and communication.
5. Narrative and entertainment.

SKETCHBOOK:
The essential floor plan of each project must begin with concepts. These are to be conceived within a sketchbook at any point in the development of an idea or concept. The sketchbook is one of the most important methods that the illustrator can utilize. All ideas will begin here and is required to be a part of the evaluative process.

TEXTBOOK:

The Encylopedia of Illustration Techniques: Katherine Slade, ISBN 0-7624-0083-8
Painting Nature in pen and ink with watercolor: Claudia Nice, ISBN 0-89134-813-1
The Colored Pencil: Bet Borgeson, ISBN 0-8230-0742-1
INSTRUCTIONAL AIDS (SLIDES):

Food related products.
Drug advertisements for doctors.
Medical illustration.
Illustration Self-promotion images.
Advertising products.
Promotional illustration for articles.
Book covers.
Charts
Human Interest.

MATERIALS:,
1-14" X 17" pad of layout bond drawing paper.
100 lb. Bristol board pad 14" X 17" cold press vellum (Canson, Bienfang or Strathmore)
15" X 20" Illustration board (as needed).
2 sheets of Canson Mi Tientes gray paper (as needed)
Black and White charcoal
One 60 color set of Prismacolor, Derwent Studio/ Artist or Caran DıAche color pencil
6 -4B to 6B drawing pencils.
Watercolor pencil set
Watercolor cake set
Array of appropriate painting natural or synthetic hair brushes
Primary and secondary set of designer gouache + black and white
Sheets of 9" X 12" Mylar or acetate (as needed).
11" X 17" Tracing paper pad.
Technical pen or permanent black ink drawing pen with an extra fine tip.
Scotch tape.
Workable spray fixative.
Exacto knife and extra blades.
Manual or power pencil sharpeners.
One 35 mm camera and film.
18" C-Thru ruler
Spray Adhesive
Art gum and Mars-Staedler erasers
OUTSIDE RESOURSES:

Color and black and white copy machines.
Camera Lucida
Macintosh computer.
Photo processor
Image scanner

INPUT RESOURSES:

1. Photographs
2. Original drawings.
3. Clip art.
4. Scans of previously drawn or photographed images.
5. Mixed media,
6. Mixed images.
7. Computer created images.

FORMS OF OUTPUT

1. Black and white line art.
2. Half tones.
3. Gray scale.
4. Color (CMYK).
5. Color monitor (RGB)
6. Ink Jet printer.
7. Thermal printer.
8. Iris Print.
9. Color copier

TECHNICAL ILLUSTRATION PROCESSES:

Black and white ink drawing with line and cross-hatching
Ink dot drawing in black and white.
Color pencil drawing.
Color pencil on gray toned paper.
Color pencil over watercolor
Color pencil on film or duralene surfaces
Gouache painting
Watercolor painting.
Watercolor and gouache.
Watercolor and graphite.
Watercolor and ink.
Graphite pencil drawing on paper.
Graphite pencil drawing on film.
Scratchboard.
Mixed drawing and painting media.
Collâge
Charcoal drawing.
Oil and chalk pastels.
Felt markers overlapped with color pencil.
Felt markers overlapped with ink line and cross hatch.
Computer Illustration
Airbrush
Acrylic paint
Monoprint
Linocut (or woodcut).
TENTATIVE EXERCISES:
(BOOK PUBLICATION)

1. A childrenıs book cover.
2. Book novel jacket cover complete.

(MAGAZINE PUBLICATION)

1. Magazine cover illustration: Time, Newsweek, People
2. Magazine cover illustration: Scientific American, Smithsonian
3. Magazine cover illustration: gardening, Food, etc.
4. Illustration to accompany a magazine article: Short story.
5. Illustration to accompany a magazine article: Feature of a celebrity.
6. Illustration to accompany a magazine article: Feature of a controversial subject.

(CARD-BROCHURE-SHEET IMAGERY)

1. A poem illustrated in three pages with spot illustrations.
2. A card illustration expressing grief.
3. A card birthday illustration.
4. A humorous illustration.

(INK EDITORIAL IMAGERY)

1. Develop two cartoon characters.
2. One black and white editorial cartoon of a local political issue.
3. One black and white editorial cartoon of a local Humorous issue.
4. One black and white editorial cartoon of a local Social issue.
5. Black and white illustration; (Ink) to accompany a newspaper article.
6. Design a letter of the alphabet. (Ink)
7. Design and Illustrate an editorial cartoon using the symbols in combination of an elephant and a donkey to show bi-partisanship.
8. A mechanical version (laid out in light pencil first) of your choice of a zoo animal in ink line only. (i.e. Alligator, elephant, donkey, lion, tiger, hippo, rhinoceros, giraffe).

(IMAGES OF PEOPLE REALITY)

1. Portrait of a celebrity with a magazine overlay on Mylar.
2. Portrait of a non-entertainment celebrity in collage form.
3. Portrait of an option of your choice.

(COLLAGE)

1. The process of collâge: Using three images (computer, photography, color drawing).
2. A combination self-promotion illustration that includes 4 techniques.

(MECHANICAL AND TECHNICAL LAYOUTS)

1. Design and layout in mechanical form. a. Linear perspective layout. b. Freehand perspective layout on a theme of depth.

(POSTERS SERIES)

1. A travel Poster.
2. A movie advertising poster
3. A world political issue poster.
4. Major City Zoo Poster for the San Francisco Zoo..
5. A sports poster in the form of an illustration.
6. Illustration: pro ecology poster.
7. Anti smoking Poster.

(IMAGES OF PEOPLE FANTASY)

1. The "Heroic" Figure as Male and female pair. Examples could be compared to King Midas, Mercury, Apollo, Thor, Neptune, Sheba, Cleopatra, Mars or Venus.
2. Substitute an animal head on a human body as a means of producing an editorial.
3. Substitute three different animal heads for three interacting figures of human beings in proportion.

(SCIENTIFIC ILLUSTRATION/NATIONAL GEOGRAPHIC SERIES)

1. Ornithology: A specific bird in its' own habitat.
2. Ichthyology: A specific fish in its' own habitat.
3. Ichthyology: Close up view of seashells.
4. Entomology: Enlargement of a wasp, Bee, Butterfly, Moth, Fly, Spider, beetle.
5. Botany: Specific detailing of a stem and resulting flowers.
6. Botany: Bayberries, blue, black or holly berries with leaves specifically defined.
7. Botany: A palm Tree that is specifically defined.
8. One flower enlarged.
9. Animal Biology: A specific lizard, Snake, rodent or small desert animal in its habitat.
10. Three enlarged Eucalyptus leaves attached to a stem enlarged in watercolor and prismacolor.
11. Medical advertisement on the hazards of problems of arthritis in the joints of the hand.

(PRODUCT DESIGN ILLUSTRATION)

1. Re-design and illustration for a cereal box.
2. Contemporary postage stamp of a specific country.
3. A replacement flag of a given state in the United States.
4. A replacement license plate of a given state in the United States.

(MEDICAL ILLUSTRATION)

1. A human organ as a specific description of a problem.

(MICROBIOLOGY)

1. Biological organisms

(ADVERTISING)

1. An illustration to advertise: a plant fertilizer.
2. An illustration to advertise: Viagra.
3. A CD cover of your choice of musical talent. You write the scenario. Required to have a title and name of artist. 2.5 size and color copied to actual size.
4. An anti firearms poster and/or illustration.
5. Menu and restaurant advertisement.
Copyright Raymond Holbert JULY 2005:Use of these images is prohibited without written permission from the author.
Email: rholbert@ccsf.cc.ca.us

Click here to return to home page.