JOURNALS-DIARIES-SKETCHBOOKS
A learning expression sharing information for keeping a journal, diary or daily reminder.
RAYMOND HOLBERT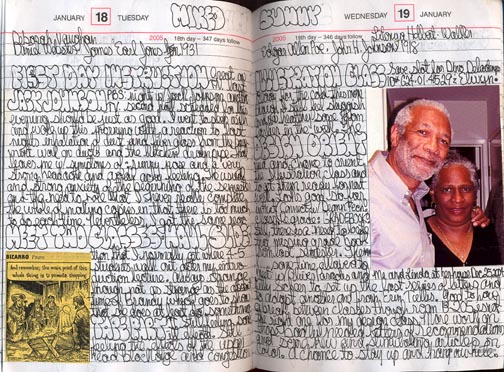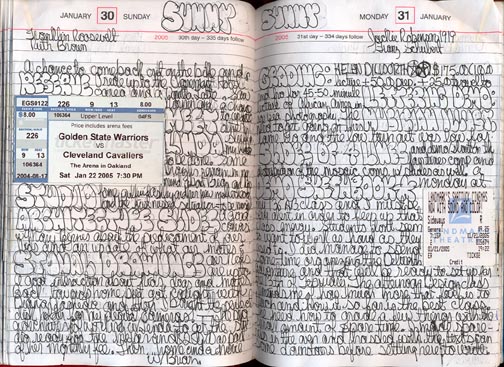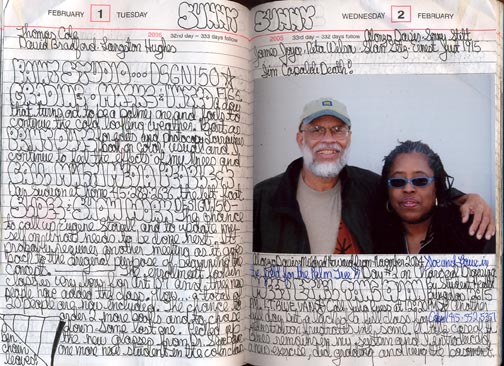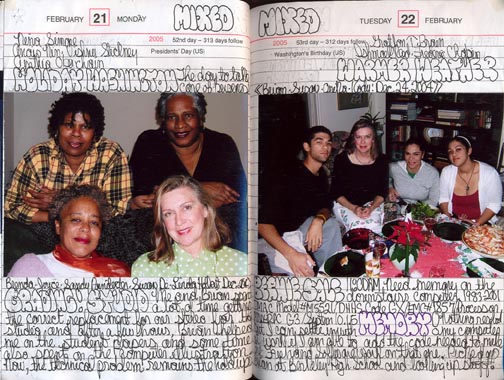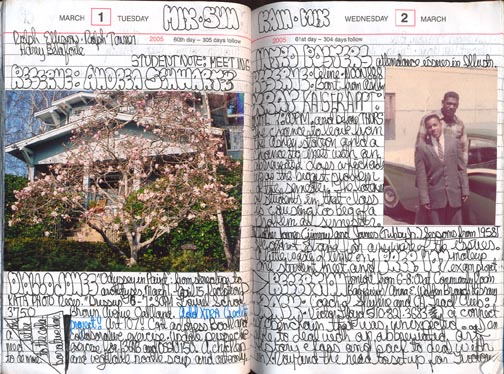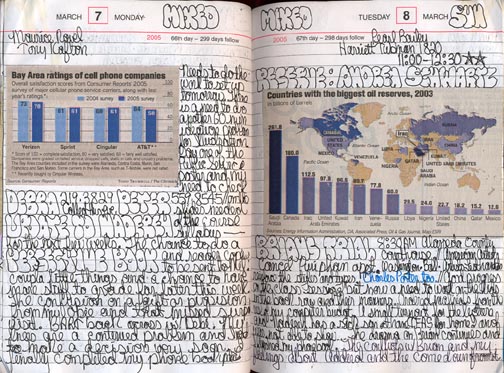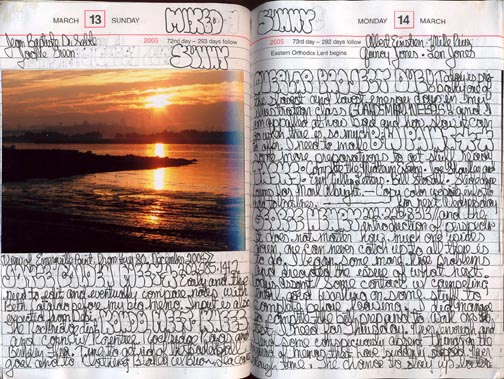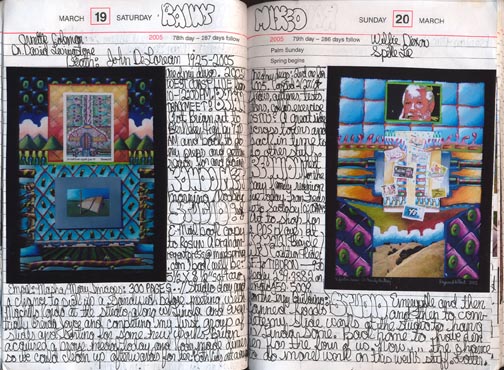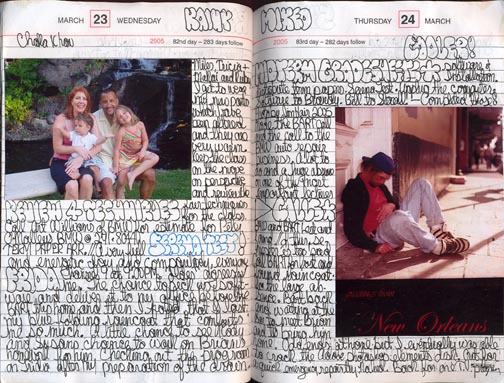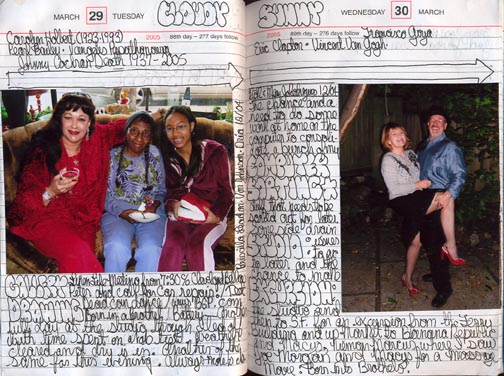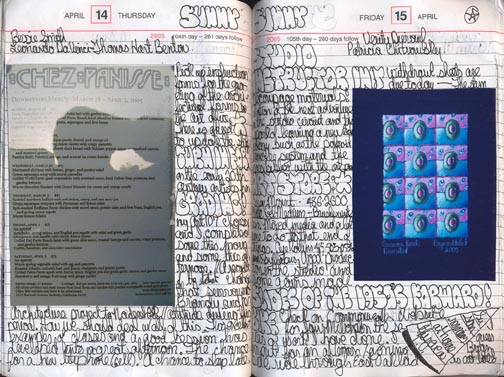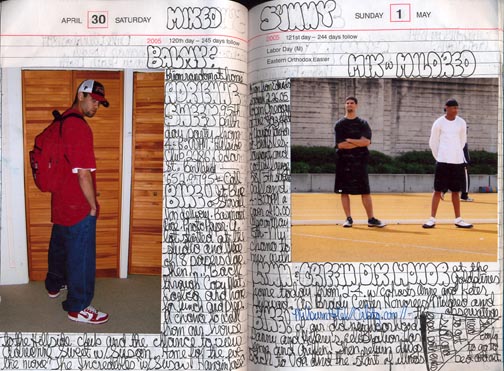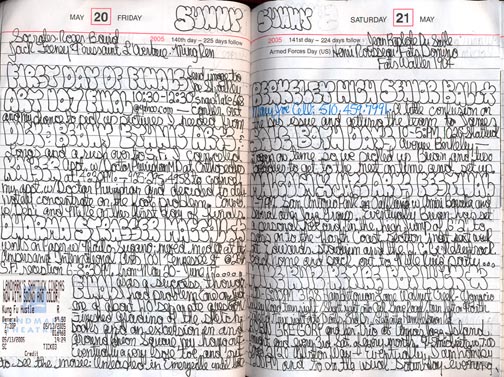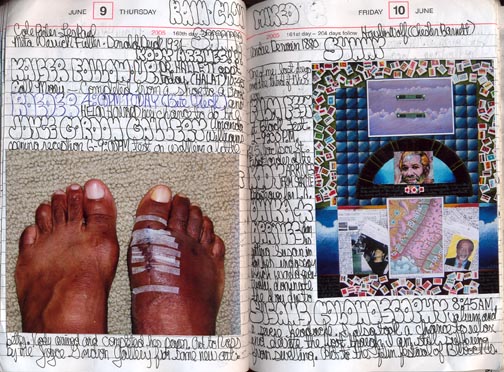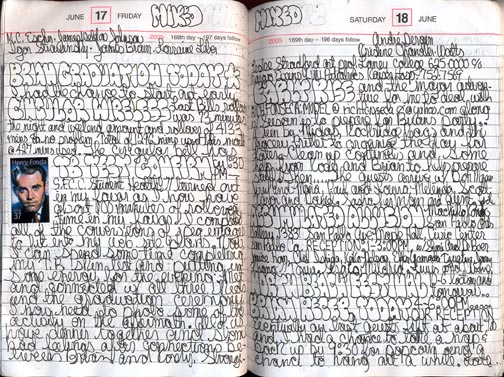 AN OUTLINE FOR KEEPING JOURNALS
There are many sources used to record information. Some early forms were maintained by monks. Other societies have designated griots who keep an oral account of history. I think that keeping a journal, diary, sketchbook, notebook, log, calendar or daily reminder is one of the best methods for recording information and memories. These sources can be started at any time in your life. The longer they are maintained, the more valuable they become to you, your intimates, your friends and relatives. I started mine originally as a date, tax record, phone, and scrap book when I started college. I hope that some of these suggestions will help you to become inspired to keep a journal.
I also try to think of these recording sources as a record of growth. They can be used hourly, daily, weekly, monthly or any combination of times. Save and use images to visually enhance your journal and to reserve visual memories. These images record what you want to remember or save. They can be photographs which have been trimmed down to smaller sizes, magazine images, tiny statistical articles, advertisements, drawings, diagrams, ticket stubs and labels. Anything that you consider memorable or important will do. Use both printed and written characters to record or collect your ideas. Some random daily suggestions for writing could be: Weather conditions, how you started versus how you ended your day, and positive or negative events. Annex pages can be kept somewhere within your journals to keep information or reminders such as; things to do, places to go, movies, music, books, codes, combinations, phone numbers and lists to remember. Birthdays, Anniversaries or noteworthy events can be listed daily in a calendar.
Daily reminders are best used to remember important dates. You can accumulate this information over a short time to be used for as many days, weeks, months, or years as needed.Trivia can also be seen as importantsuch as birthdays of people who share our birthday. Include relatives friends, mentors, heroes and sheros, important figures in history, advisors, idols, or alter egos.
For the personal approach in a journal, diary or daily reminder, include by any means, anything that you consider important such as your diet or intake of food especially when health is critical. Exercise habits can give you an idea of what you have been doing and how they may affect you. Your entries will help you to maintain a clear personal image of yourself. Often journals will have some parts which are very private or secretive. You may need to decide who may have access to view or read your journal, reminder or diary. Incorporate your personal tastes as often as possible. Your interests in images can be used to establish an alphabet of symbols which eventually reflect your life in the long and short run.
Usually people have few impressions of how to keep these recording sources. Others feel that one must be very creative to do this. There are no artistic standards and therefore hundreds of approaches. I will show some examples of these approaches through slides after we cover an overview of more specific ideas related to personal entry books, daily reminders and journals. Some people throughout history have found ways to get lots of mileage out of their entries (Andy Warhol, Anne Frank, Anais Nin, Joe Blow or etc.)
Consider how important a journal can be to family members and close friends after you exit this life. Memories after all are what we use to see where we are headed in life. These written memories remind us that what we choose not to do is just as important as what we choose to do. I suggest that you include text in various kinds of the letter form to distinguish the differences of events in your daily life. This is meant to give some graphic variation to your pages. This process will give you a tangible method of observing your lifein visual forms. We learn so much from the books we have read all our lives. Why not have one devoted to our own lives? Think of it as a manual to help you manage your life.
SOME REASONS FOR PERSONAL BOOKS/MEMORY:

PERSONAL: Artistic, anthropological experience, references to friends and family, personal parallels. A human manual. A code page. Forced time out.
PSYCHOLOGICAL: Daily, monthly, years, decades, generations, evaluation, Self esteem, A Sense of accomplishment or loss, biological references. A personal reference to growth, a familial reminder of growth.
BUSINESS: "Life is a business." Learning your capabilities (don't let your mind make promises your body can't keep.)
VISUAL: A Memory Bank, A Visual Means of Growth, A Reminder. We also think , analyze, and determine through our eyes and visual images, A picture and 1,000 words. "Every picture tells a story."
MEMORY:Daily, Weekly, Monthly, Decades, Generations and Lifetime recorded memories. Probably the center of it all. one can address short and long term memories.
LITERARY:Mental overload storage, A Literary Record of Growth, A Memory Bank, A Reminder. "Every sentence tells a story."
TIME/HISTORY:You are what you have done. (You are what you did.) Refers to past, present and future. "Where does the time go?" "When was that again?" "Did I say that?" Things that you may want to remember without memorizing. A continuous file to re-reference at ongoing times.
WHAT YOU CAN INCLUDE/SHARING(what you must determine first): Who has access to your journal? Are some parts or all of it rated? "G","PG", "PG-13", "R", "X" What about colleagues? Is it O.K. for others to read them after you die are incriminated, imbalanced or insane? Can you accept occasional and incidental embarrassment from entries? Often you will find that other people will be inspired by your books. I allow other people to look through my journals though I do not include what I consider secretive information. Some contemporary things included in my journals are kind of embarrassing but I get over them in time. Often those same things years later are the most humorous and insightful.

SIZE/FORMAT/LONGEVITY: Smallest size: 4" X 6" limits the size of photographs and entries, medium size: 7" X 9" allows standard 3" x 5" photos and more writing, large: about 9" x 12" open for most picture and photos sizes and lap sketches, lots of writing, very large:18" X 24" The most flexible and least convenient. Books are available from stationary stores and art stores for a variety of formats and sizes and purposes. Personal books receive more wear and tear than most other books if used regularly. Use a good quality binding such as cloth. Books like these can have a potential life of more than 100 years with an average life of 60-70 years with the proper preservation.
DAILY OR NON-DAILY: Entries each day with the same space responsibility allows you to look ahead and plan within a commercially printed format. A non-daily allows you to date your own entries and determine how much you want to contribute if anything per day, week or month. I recommend at least one entry per week.
CONVENIENCE AND USE: The use of journals, diaries, reminders or any other regularly maintained book requires a consistent availability of the book and your time. There is no one solution or best way to keep a book. There are probably as many techniques as there are people. Entries can be made at any time for some people so you should keep it (or them) nearby if possible. Set relax times to make short and significant entries. Cards and photos can be temporarily stored between pages to be glued at a more convenient time.
RESEARCH & DEVELOPMENT: All entries in journals collectively amount to some kind of research and development in your personal life. Those who teach writing report that required journals from students give them a much better assessment of their students abilities to write and to express themselves. The same is true for sketchbooks kept by art students.

SUGGESTED ADDITIONS TO YOUR BOOK: PHOTOGRAPHS: Friends, lovers, relatives, enemies, places (rear pages of photos make excellent drawing surfaces).
CLIPPINGS OF MAGAZINES & NEWSPAPERS: Weather miniature charts, T.V. rating charts, stock averages, postcards, contemporary stamps and stamps from other countries.
APPOINTMENTS: Medical, dental, job-related, vacations, due dates, meetings, plane, train or bus schedules, student appointments.
INFORMATION: Birthdays, solstices, holidays, appointments, events, tragedies, local, regional, and national affairs, weather, moon phases, out of town acknowledgments, future plans.
FAVORITE QUOTES: one example "There is never enough time unless you are serving it"....Malcolm Forbes.
IDEAS: Great notions shared by colleagues, friends and other professionals. Not all ideas are usable but these entries will allow a source for temporary storage and consideration.
SKETCHES: For those who draw or paint, the sketchbook/journal can act as a first draft of ideas. Very small drawings can assist development of ideas and help to define one's vocabulary of symbols and images.
ALL MISCELLANEOUS: Records and books to purchase, stock or investment progress, other income, notes on artists and exhibits, reference to video and film recommendations, cafes and restaurants to try, notes for taxes, domestic and international stamps. Computerized sales receipts from grocery stores. Postcards can be saved and/or cropped to a smaller size.
APPENDIX/ANNEX: No Journal system is the standard so the systems used must adhere to the expectations of their owner. An appendix in the rear of a journal can contain all kinds of subjects and interests which take place over a period of one year. It can include subject pages of things which regularly occur such as movies, tax information, travel statistics, food and wine, restaurants, consumer mania, auto information and many other subjects. Many people like to include phone numbers and addresses, vital numbers and codes, lock and locker combinations, fax numbers, E-Mail addresses, help lines, doctor and dental emergency numbers and children related numbers such as school and schoolmate numbers. Not limited to one book. Perfect for the artist/ designer who may find the need for more room to develop an idea or to add bigger pictures or longer writing. A code and combination page.
JOURNAL SUPPLEMENT: Can be used to attach xeroxed documents which need to be kept for a given period. Often those of us who keep journals find that writing comes easy and need more room than a small or medium journal might allow. For this reason, a supplement can be kept as an overlapping parallel and act as a spillover or support. It can allow you to write a considerable amount your journal would not have room for. It is also valuable for keeping oversized pictures, clippings, and drawings which need to be kept flat, protected, or used for reference.

Copyright Raymond Holbert 2005:Use of these images is prohibited without written permission from the author.




Email:rholbert@ccsf.cc.ca.us